This tip will work for any air vent. We use this technique on our customer air intake vent (the most shockingly dirty vent in the house).
An air vent is always nice when its clean and for some reason, we tend to forget this simple procedure. Believe me, when you look closely it is obvious to anyone.
So, how do you clean an air vent without taking the whole grill off?
Step-1
Get yourself a metal butter knife or a wooden spatula and a clean cleaning cloth.
Step-2
Wrap the cleaning cloth around the knife- if it's a thin cloth, double the layer.
Step-3
Spray the vent with Multipurpose cleaner or just soapy water and insert knife or wooden spatula between the metal slats.  Clean side to side.
Step-4
Re adjust the cloth as necessary so you have a clean area of the cloth to use. Rinse and repeat.
Tips
It only takes 5-10 minutes and you have a vent that looks sparkling! This is a particularly good trick for vents that are very difficult to remove, or the paint would be damaged by removing.
If the vents are removable you can dip them in a Laundry trough with soapy water and wash them. Paint brushes work really well for cleaning the vents also
If you like our post and want to hear more about us, visit Regular House Cleaning Bayside to find more information on our services.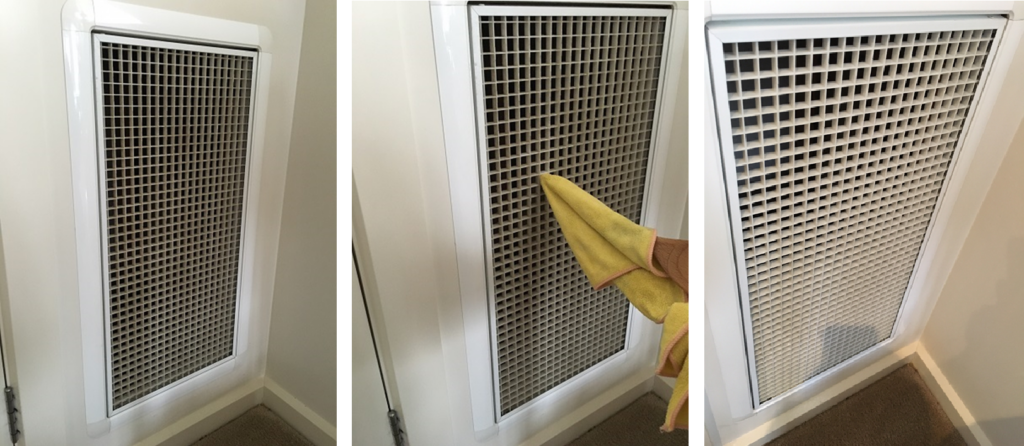 Related posts